Crisis in Cyprus and Hong Kong Vs. The Triad
Resource Wars in Cyprus
I'm always in the market for a new story and region of the globe that I'm ignorant of. Zerohedge linked to two stories in one day about Turkey, Cyprus and the reaction from the US. I wasn't aware that Cyprus was even a place with any contention. I released I was wrong, I expand in the video.
To summarize what I learned, Turkey invaded northern Cyprus back in 1974 where there is a minority Turkish population. They had the backing of Henry Kissinger and occupy it to this day. The map even shows it has a separate "republic" from the rest of Cyprus.
Recently, the Turks have begun offshore drilling near Cyprus, venturing into waters that are not exactly recognized as Turkish territory. The drillers are escorted by warships, F-16s, and drones. Normally a development like this would not warrant a response from the world's superpower, much less a negative one. However, with the Turks finding themselves in the doghouse over their weapons deals with the Russians and their outright fit over the US attempting to carve off an "independent" Kurdistan in Syria, and finding themselves on the other side in Libya (at the moment), the West has had a enough of Erodogan.
The European Union leveled sanctions against Turkey for this move. Less money and less loans from the Europeans. Some of which are partners in NATO.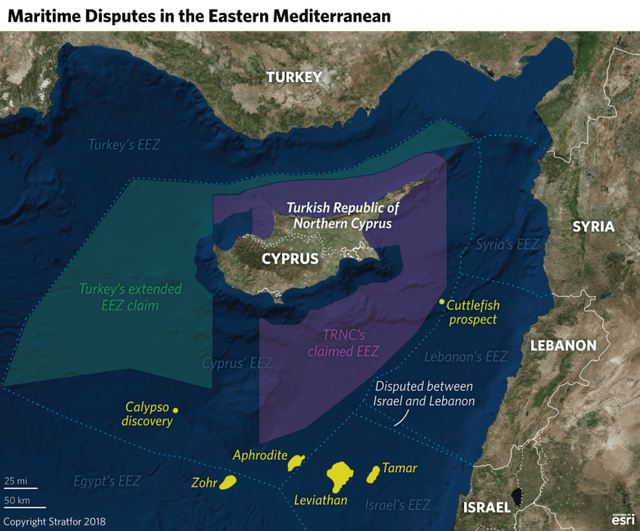 Source
The US is also planning a response to Turkey's moves in Cyprus. The US Senate Foreign Relations Committee agreed to a new "Eastern Mediterranean strategy". The plan reads like an extortion contract between the local mafia organization and a local business. The US comes down harder on the Greek government in Cyprus than the Turks in what looks like a plan to take the opportunity to hurt the Turks AND the RUSSIANS. Below is list of items within the strategy:
force Greek Cyprus to stop allowing Russian naval vessels to dock in exchange for protection
US will expand military occupation of Crete
censor Greek-language media in Cyprus & Greece
threatens sanctions on Greek Orthodox Church
to isolate Russia & Turkey
develop oil & gas infrastructure to Southern Europe
US to supply weapons to Cyprus, without removing deals with Turks
US scholarships to "future leaders" of Cyprus
military training to Cyprus
So in other words, "we're going to pick a fight on your land and you better not complain".
Hong Kong Gets Crazy Source
Just a quick update on the protests in Hong Kong. It looks like someone (China) invited the Triad to the party. Mobs of armed and organized young men stormed a metro station in Yuen Long, a city north of Hong Kong City. China looks to bring violence to the streets as the protest movement has evolved past the limited Extradition Bill.
Elements of nationalist groups have begun using the protests to make their case for more "pro-democracy" talk with a sovereign Hong Kong being the goal. Some of this is being multiplied by Western media coverage, which knows that an independence movement at it's mainland borders is worse for China than a disagreement over a bill. A bill that dealt with much more than broad extradition to China.
Content
You can find the audio version of the episode here and on ITunes, and as always the video is available: